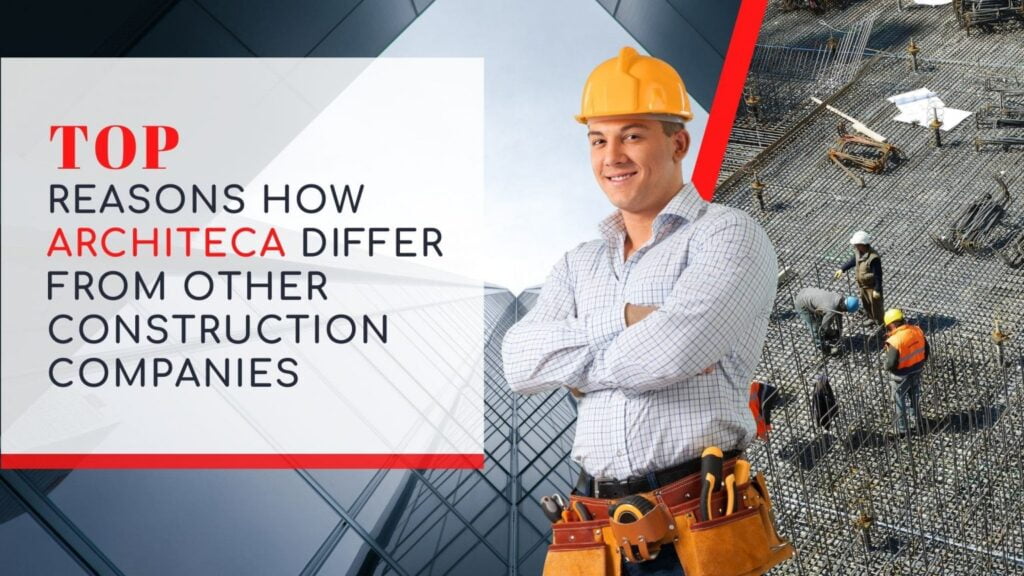 Top reasons how ARCHITECA differ from other construction companies?
On the search for the best construction company? Look no further than Architeca, one of the top design build firms in the area. Whether you're looking to build an office building or a custom house, our team of skilled construction professionals will ensure that your project stays on budget and schedule from start to finish. Here are some of the many reasons why Architeca design build firm outshines the competition in construction and design build services. The top reasons how architeca differ from other construction companies are
We go beyond
You've probably heard of turnkey construction services: An interior designer or company that handles everything for you—from finding a property to hiring contractors and overseeing work. If you already have a property, our top-notch interior designers can help you from start to finish. But here's what makes us different: Turnkey companies don't often offer their clients aftercare. And we do.
We focus on execution.
Why spend time and money talking about something you're not going to do? At Architeca design build firm, we focus on execution. We believe that if you focus on doing what must be done today, tomorrow will take care of itself. When we have a plan, we follow it—no matter how great an idea may sound at that moment.
We go the extra mile
When you hire an interior designer, you're not just hiring someone who will design a room for you; you're also hiring someone who can help navigate your contractor when things start too awry. This is where interior designers come in; we have relationships with plumbers, electricians, HVAC specialists, etc., and we use those connections to benefit our clients. At Architeca, we take extra steps to ensure that every phase of your project runs smoothly—from start to finish.
We are not just builders but also interior designers
Our expert designers are known for their creativity and high-quality design. We look at your requirements and ideas and devise a plan that satisfies all your needs, including budget and taste. And when it comes to interior designing in Nagercoil, there is none better than us.
We Focus on design quality
An interior designer is responsible for not only creating space but also making sure that every element within it works in perfect harmony with its surroundings. The process begins with proper client interaction and is carried out under three key steps—design, development and execution. We focus on design quality using computer-assisted drawing (CAD) software, allowing us to work faster than our competition.
We are certified specialists
Architeca has certified specialists in our fields and take great pride in providing top-quality services. By dealing directly with us, we can ensure that your vision for your project is fully realized and executed flawlessly. We work hard to earn and maintain our reputation for excellence, so trust us today with yours. As a builder, we are on-site every week throughout each project stage.
Great relationships with our clients
We have found that client relationships are integral to our company's success. We build trusting and lasting relationships with our clients by involving them in every step of every project. This allows us to understand our clients' needs better and deliver projects that meet their goals and exceed their expectations.
Solid reputation
With more than 12 years of experience, we've built a solid reputation as one of Tamil Nadu's most reliable home builders. Our staff members are honest, hardworking and trustworthy—and many of them are multilingual. That helps them work effectively with customers.
We know architecture too
We know that architecture and design go hand in hand. Some architects will tell you they don't separate design from architecture. Since we started as an architectural company, our focus has always been to deliver a high-quality product with interior design and everything else you need. So when it comes time for construction, we can handle it better than most of our competitors because we know what we're doing.
Luxury Builder in Nagercoil
The real estate market in Nagercoil is unique, with highly budget-conscious customers who also demand top-end quality and service. This can be a difficult balance for any contractor, but it's precisely what makes our services so popular. We provide all of our luxury builders in Nagercoil with fully furnished turnkey projects, letting you focus on building relationships with your clients and leave everything else up to us.
Turn-key construction solution
Architeca design build firm deliver turnkey solutions for residential, commercial and industrial properties, meaning we can have projects that go from structural development to interior design. We're more than just a building company—we're your one-stop-shop for any development project. Businesses and homeowners throughout Nagercoil rely on us for all their construction needs.
With years of experience in interior design and architecture, we offer you turnkey solutions when it comes to all your home improvement projects. Whether it's a complete revamp or repair, you name it, and we will handle it. You don't have to pay extra for anything as every service is included in our price tag.
How architeca differ from other construction companies?
Free personalized quotation
We aim to turn your idea into reality and make your home, apartment or office exactly how you want it. All these factors should be considered when looking for a turnkey construction company in Nagercoil that offers interior design services. Let's review them. When choosing an interior designer in Nagercoil, don't look just at their price. Instead, check out their portfolio of previous work and their customer reviews—these are essential details when determining if they are right for you.
Free site visit
With a dedicated team of architects and designers at your disposal, you'll receive more than just construction advice. We'll design your home from start to finish and handle every aspect of it from conception to execution. It's a holistic process that gives you one less thing to worry about when designing your home. Just one of many benefits of choosing Architeca over any other turnkey construction company in Nagercoil and the best construction company in Chennai.
Free 2D floor plan
If you're unsure how to visualize your dream home, many turnkey house-building services include free 2D floor plans in their pricing. This is often all you need to get started on a project. It also helps you see exactly what goes into building a new home and can help you figure out if it's within your budget.
How much does it cost to build a new house? Most people have no idea what goes into making a new home from scratch—and with good reason: It can be challenging to conceptualize exactly what it takes for contractors and subcontractors to build an entire structure from foundation to roofing.
We have a lot of happy customers.
People are one of our most important assets, and their willingness to provide positive feedback means everything to us. We will make every effort to ensure that you, too, become our satisfied customer. We'll go out of our way to ensure you're delighted by your experience with us. Even if something does go wrong, we'll fix it as quickly as possible so that you can focus on what matters most—your family and business. Call us today!
These are the top reasons how architeca differ from other construction companies.