What are the challenges facing by homeowners?
Are you planning to build your dream house? Well, Building a dream house is an exciting journey for everyone. Isn't it? But building a house is not a simple task. Because, many complicated processes and challenges are involved in it. Here are the top 5 challenges facing by homeowners and they must overcome these while building their dream house.
Challenges in designing & planning
Inappropriate Project Schedule
Panic if cost overruns
Not choosing the right materials
Not Hiring the Right Team
Let's have a look at the challenges facing by homeowners!
1. Challenges in designing & planning: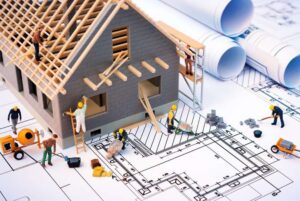 Poor space planning may leave you to end up with an inconvenient situation. There are a few important steps to consider before any of the building construction starts. If you are planning to build a new house, space planning is essential. The plan should consider your land space, your present and future lifestyles.
You must take your time to do research about all these things with your best architect for successful results. Working with a home builder or a contractor will take this entire headache from you and you can have a beautiful home. We need to be very careful while planning and designing your dream house, since improper planning can lead to becoming unsatisfied in the end.
You can choose a design-build firm as an extra level of security to ensure designs and plans are correct and expectations are clear, so the projects will not suffer in the construction phase.
2. Inappropriate Project Schedule:
Scheduling is a method in which the construction work activities are arranged in a logical order to attain the project within the specified time frame. To ensure the project work is carried out properly, the scheduling is an important part to effectively utilize the available manpower and resources. 
Scheduling requires skilled technical knowledge of sequential order of construction activities and exact logical relation between the activities and resources required for each project phase. 
Due to an inappropriate project schedule, the major project resources or equipment will be delivered to the activities which are not critical and as a result, the critical activities will suffer at the end so, automatically the delay will occur over the construction time frame.
3. Panic if cost overruns:
Have a clear idea about your budgeting and requirements, which will remove potential backlash from running out of money in the half way of the project. You should take care when planning your budget for home construction. Understand what you can afford and organize how you will be managing financing your dream house construction.
It is important to secure the budget before the construction work starts, so that you will have a solid guide to assist your builder. Make sure that you have the right planning to help complete your project within budget.
Be prepared to spend some extra amount for furniture, windows, home appliances, landscaping, exteriors etc. Many people budget for those properties after move-in. But if you do so, your budget will go out of pocket. Get help from who can walk you through the process of choosing what to buy NOW and what to purchase LATER.
4. Not choosing the right materials:
Sometimes we will be tempted to choose low quality materials and fittings, especially when the budget is a bit tight. This can make you spend double in the future. Since it is important not to overspend, take care of buying good quality materials that will last over the years.
This is especially vital when deciding basic materials such as doors, windows, tiles, plumbing fixtures and fittings etc. Take your decisions according to budget, style of the house, the green concept of the house, the durability factor, and their maintenance over a period of time.
5. Not Hiring the Right Team:
Everyone would have a desire to own a dream house. But not everyone is able to attain such a desire due to lack of resources and guidance to make it alive. Choosing yourself and not hiring a professional might seem like a money saving idea, but this mistake will make you spend a huge amount later.
An experienced design-build firm will have the knowledge and tools to help you plan and build a house that is safe and well-crafted, within a set time-frame and budget.
Do your research when choosing a home builder and hire a best one, ask for recent project details for references and view some of their previous building projects and display homes.
So, before you hire people, understand what kind of experts and professionals are really needed for home construction. Once you hire the right team for your house construction, you can make sure that not a single cent of your land will be wasted.
Conclusion:
All the mentioned problems are very common challenges facing by homeowners during house construction. But you can avoid these by selecting the best construction company as they follow a proper monitoring performance with all the key aspects and activities.